Search for Destra, Haiti, on Google Maps. The rural village is so remote and isolated that it is nowhere to be found on the world's leading search engine. The nearest paved road is about a 30-minute walk. There is no school in the area. But for many of the kids in Destra, the soccer field is their school.
It is where they learn to read, garden and harvest; about sex education and preventing teenage pregnancies. All of this is delivered through soccer, a powerful tool GOALS Haiti has been using to do just those and empower youths and their families in remote areas of Haiti.
"Football (also known as soccer) has been the major core in all of GOALS Haiti's elements and the spark that brings kids into our programs," said GOALS Haiti Executive Director Kathy McAllister. "Football is the most popular sport in Haiti and kids follow the World Cup religiously. So the sport really brings them into our programs. And we have all of our other programs tied into football."
Initiated in Destra and now in two other villages, kids meet five times a week for their daily football curriculum, with other educational programs built around it. Through the 2020-21 grant provided by Play Academy with Naomi Osaka, GOALS has ensured that girls have equal access to the benefits of soccer as boys through their fair play rule: for every boys team, there must be a girls team.
They found boys were recruiting their sisters, cousins and neighbors. In total, four teams have formed at each site (girls, boys, younger girls, younger boys) with 25 players each and tournaments held regularly.
Getting girls to play has been crucial, as traditionally families would choose to send the boy to school because they cannot afford to send both. Girls usually stay behind to help with chores, such as washing clothes by hand or walking far to retrieve gallons of water.
"Because of the financial hardship of families in the community, girls don't have many options for a bright future," said soccer coach Marie-Flore Charles. "The country has many flaws and one can argue that girls are the ones who suffer the most due to the lack of service Haiti offers. From childhood to adulthood girls go through a lot of difficult challenges."
The challenges reached a new escalation in 2021, not only with the COVID-19 pandemic, but the assassination of Haiti's President in July followed by a 7.2 earthquake the next month. It is on top of the violence, hunger, health issues, abandonment and security girls face daily.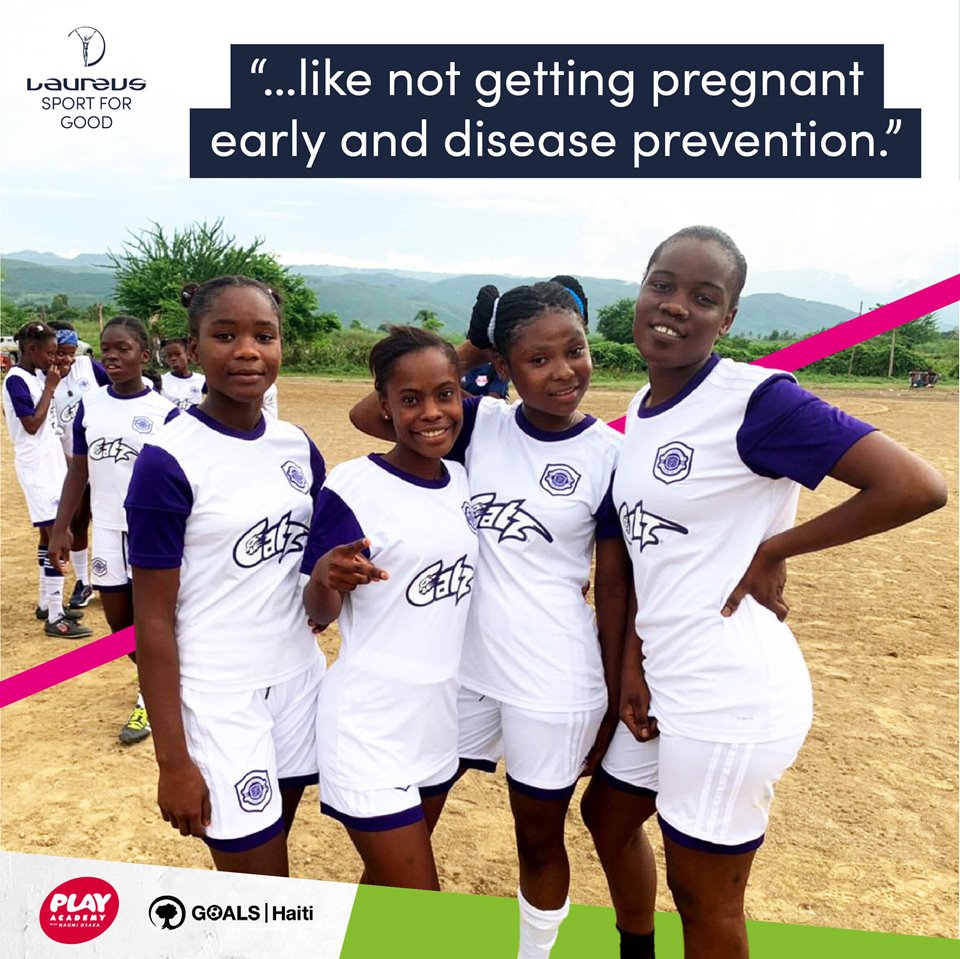 "The only hope we ask for is to have access to a good education not just to find a good job but to be smart enough to make the right decisions in a difficult living environment," Charles said.
Play Academy with Naomi Osaka is a program created through a partnership between Naomi Osaka, NIKE, Inc., and Laureus Sport for Good, with the goal of changing girls' lives through play and sport. With the support of Play Academy's funding, which has been approved also for 2022, GOALS added a program teaching about gender-based violence that helps kids understand what it means, identifying warning signs, and how to defend themselves. It is part of the process of equipping the next generation of leaders.
"I like that GOALS teaches what is right and wrong, and how to be conscience about violence against women," said 15-year-old Francesca.