Bethina Petit-Frere remembers sneaking out of her house to play soccer with her brother and his friends. At the time, it was uncommon for girls in Haiti to play soccer. So she had to make sure her grandmother did not find out.
"She thought it was a game just for the boys, but most importantly she did not want me to get hurt," Petit-Frere recalled. "We would play around the corner from my house, and if we heard my grandmother coming, I would hide so she didn't see me playing."
Now 19 years old, there's no hiding for Petite-Frere. In July, her home country will be tuned in when she plays alongside the rest of the Haitian women's national soccer team in their first ever FIFA Women's World Cup.
The team lit up with emotion after defeating Chile in February's FIFA inter-confederation Playoff to qualify. For Petit-Frere, she reflected on her journey to that moment, from hiding from her grandmother to joining a local soccer program called GOALS Haiti, where for the first time, she got to play with other girls.
MORE THAN SOCCER
GOALS Haiti is not a soccer club. Rather, soccer is the means to their bigger goal of developing youth to become leaders in their communities. They run youth soccer, education and community service programs in three rural villages around Leogane, where Petit-Frere grew up.
"My dad left my mom when she was pregnant," she reflected. "When I was 1, my mom moved to another island in search of work. So I was raised by my grandmother. She sent me to school, and she did everything for me."
Her older brother was part of GOALS and told her they had a girls' team, which was a surprise for Petit-Frere. Nine-years-old at the time, she went with her brother and was warmly welcomed by the GOALS staff. She no longer had to play in secret with boys, and her grandmother felt comfortable knowing she was with trusted coaches from the local community.
"I borrowed shorts and a shirt from my brother, and when I went to the field, GOALS gave me a pair of cleats so I could participate," Petit-Frere said. "I saw that there was a good atmosphere."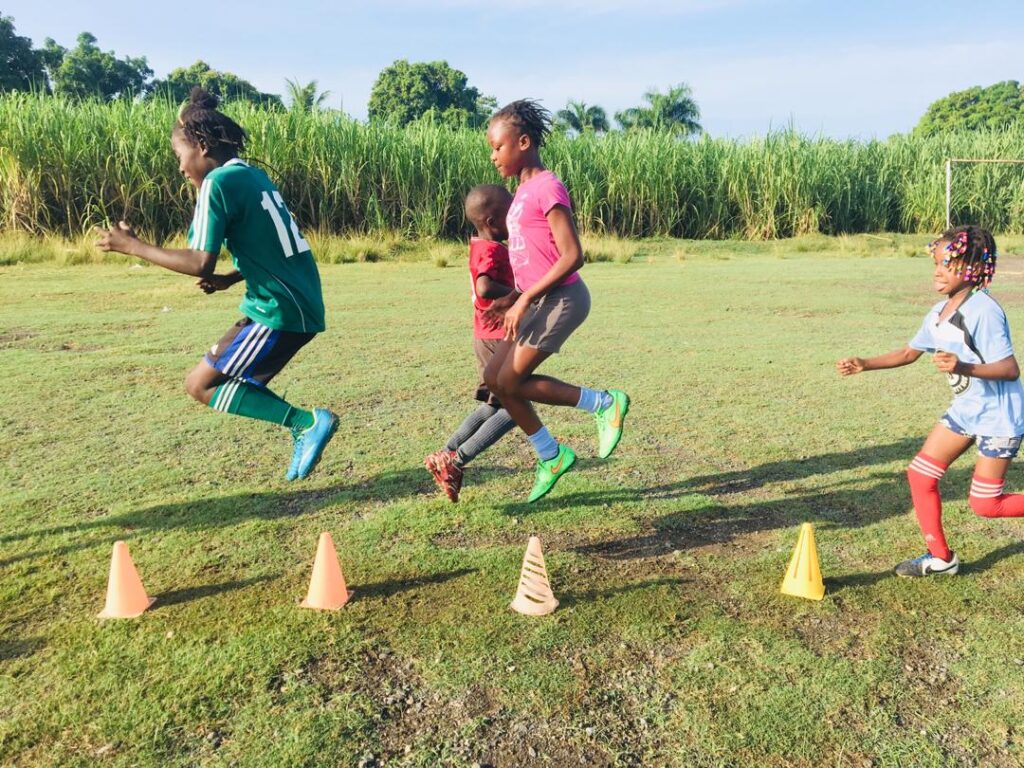 "We were a group, and the GOALS team became my family. It showed me what being a part of a collective and family meant. To this day, I still stay in contact with my GOALS Haiti team."
Petit-Frere's talent was discovered by the Haitian Football Federation after one year with GOALS, and she moved to their training base called the "Ranch" to join the youth league. Though exciting, the sudden change was a lot for her.
"The first month at the Ranch, I was really sad because I missed my grandmother and it was hard to adjust," she said. "I told myself I chose football and that it is my dream. Even if I miss my family, I had to continue. I always told myself that if I worked hard, my dreams to become a professional player would come true."
STILL PART OF THE FAMILY
GOALS takes pride that many girls from their program like Petit-Frere get discovered by the Haitian Football Federation. But they also understand their challenges transitioning to the Ranch.
"I would visit the Ranch to check in on the girls, see how they're doing and if they needed anything," GOALS Executive Director Kathy McAllister said. "Once a kid leaves our program and goes to the Federation, we don't want them to feel abandoned or that we're no longer a resource for them.
"It's important that they have an advocate and know that once they leave the GOALS program, whether that's when they join the Federation or age out at 18, that they still feel they can come to us. We want them to know that they have a network through GOALS, they have their former coach, our office staff, myself that can be a resource."
That was widely felt by Petit-Frere. Though only a year's time with GOALS, she benefited from the education and community service programs that aims to equip participants with life skills for life-changing moments like hers.
"During my time with GOALS, I learned more than soccer because I went to their study sessions on English and life skills," she said. "Even when I was at the Ranch, GOALS coaches would visit me and bring me materials to continue learning."
Haiti's historic World Cup appearance this summer is a bright spot amid the ongoing crises the country has been facing. The country is still dealing with the long-term after-effects of the 2010 earthquake, the president's assassination in 2021 and increased gang warfare which has taken over the capitol.
"For the younger girls in our program, seeing girls like Bethina, other girls in the league or GOALS alumni – all of them are role models," McAllister said. "The younger participants can say, 'If she can do it, I can do it too.' It really gives them hope."
Petit-Frere hopes participating in the World Cup gives her more exposure to professional clubs. She also doesn't take it for granted and what it means for others back home watching.
"There are a lot of players who have a lot of talent that do not get this chance, and I am getting that chance. It is a huge opportunity," she said. "For other young girls watching me play, the message I would tell them is to focus on what you want and believe in your dreams. Do not listen to people who want to discourage you. Always believe in yourself and work hard for what you want."
***
As a grantee partner of Play Academy with Naomi Osaka, GOALS Haiti advances youth leadership through soccer and education to create stronger, healthier communities in rural Haiti. Soccer is the heart of their programming. For a community to have the GOALS program, they must support equal participation from both girls' and boys' which has led to increased engagement of girls and is advancing gender equality. Visit goalshaiti.com to learn more about the organization, and visit playacademynaomi.com to learn how Naomi Osaka, NIKE, Inc., and Laureus Sport for Good are changing girls' lives through play and sport.